Welcome to the foremost Managed Service Provider in Central Pennsylvania, where we specialize in Cybersecurity and IT Support tailored for local companies. We understand the unique technological challenges businesses in Pennsylvania face, and we're here to ensure you stay ahead of the curve.

Best In Class IT Support
Providing IT Support to Companies in Central Pennsylvania, we are a leading managed service provider dedicated to ensuring seamless technology operations. Specializing in comprehensive IT services in Central PA, our team brings unmatched expertise and a commitment to propelling local businesses forward. Whether you're a startup or an established enterprise, our tailored IT solutions are designed to align with your unique needs, driving productivity and fostering growth. Partner with us and experience the gold standard of IT services in the heart of Central PA.
IT Support for SMBs & in-house teams
Fully Managed IT Support
Your full-scale IT department, without the overheads. Whether it's troubleshooting hardware issues, software conflicts, or providing comprehensive cybersecurity, our dedicated team is always a call away. Serving as your go-to hub for IT support, we're committed to elevating businesses across Central Pennsylvania to new technological heights.
Onsite IT Support Add-On
Along with unlimited remote assistance provided by our in-house Service Desk, this package offers unlimited on-site engineering assistance. When paired with our knowledge and guidance, it serves as an ideal substitute for maintaining your own IT team, sparing you the expenses and complexities of cost and HR management.
Monitoring & Alerting
Ensure the heart of your business always beats strong. With continuous monitoring and real-time alerting, we act as your frontline defense against unforeseen IT hiccups. Experience the peace of mind knowing that the best in Cybersecurity and IT Support for Local Companies in Pennsylvania is actively watching over your systems, ensuring your data remains uncompromised.
Managed Backups
Never lose a byte. Our managed backup solutions are tailored to safeguard your valuable business data. Should disaster strike, whether it's a hardware failure, cyber incident, or human error, we've got you covered. Secure, efficient, and consistent – our backup protocols stand as a testament to our reputation as the Top Rated IT Services in Central Pennsylvania.
Software Patching
Stay updated, stay protected. In today's dynamic digital landscape, software vulnerabilities can be the gateway to significant threats. We keep your systems fortified by ensuring they're always up-to-date with the latest patches. With our proactive approach, your software isn't just functional; it's secured against the latest cyber threats.
Very Fast Response
Time is of the essence. In the realm of IT, even a minor delay can lead to considerable business downtime or data breaches. Our commitment? Rapid response times that minimize disruptions and ensure your business runs seamlessly. When you're with the best in Cybersecurity and IT Support for Local Companies in Pennsylvania, swift action isn't a bonus; it's a guarantee.
Compliance
Ensuring your business remains compliant with industry regulations is paramount. As the leading business IT support company in Lewisburg, we specialize in providing expert guidance on compliance matters. Leveraging our deep understanding of Pennsylvania's unique regulatory landscape, we design IT solutions that not only meet but exceed industry standards. By partnering with us, local companies can confidently navigate the intricate web of compliance requirements, safeguarding their operations and reputation.
Advanced Cybersecurity
In the digital age, securing your business's critical data and systems is not a luxury—it's a necessity. As a top-rated IT services provider in Central Pennsylvania, we bring cutting-edge cybersecurity solutions to the forefront of your business operations. We pride ourselves on offering advanced cybersecurity measures, ensuring that local companies are shielded from ever-evolving cyber threats. Whether you're looking to protect sensitive customer data or fortify your digital infrastructure, our team is committed to delivering the best IT support Lewisburg has to offer.
FREE DOWNLOAD: 7 Signs It's Time to Switch IT Provider
What are the key signs of a poor IT Support Provider?
They're the proud pioneers of the "No Phone Support" movement?
How to recognize a good, trustworthy IT Support partner?
What you should be looking out for in an IT Support Provider?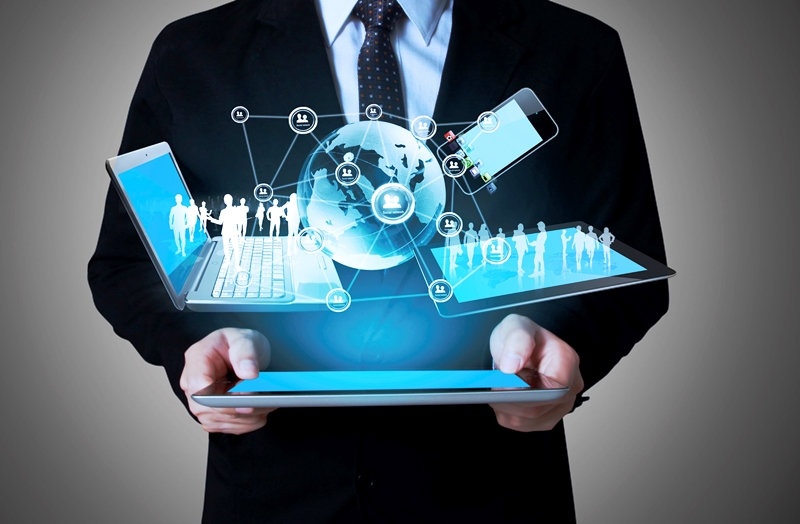 Our Partners
We've partnered with the best to give you the best there is.







Customer Satisfaction Oriented
At Computition, our top priority is ensuring the satisfaction of our clients. We continuously aim to go above and beyond their expectations, consistently delivering exceptional service on every occasion.
World-class service
Our goal is to surpass industry benchmarks by providing exceptional service through High Five XLAs. Whenever you reach out to us, you can expect to connect with a highly proficient engineer who will promptly address your concern, striving for a resolution on the first interaction.
Tailored support
Our IT support services are customizable to accommodate the specific requirements of your organization. Whether you are a small or medium-sized enterprise seeking comprehensive managed support or an internal IT team in search of additional assistance, technical knowledge, or workforce, we can adapt our solutions to meet even the most challenging situations.
Industry-leading systems & tools
We have made significant investments in top-notch systems that encompass a range of cutting-edge IT Service Management (ITSM), Remote Monitoring and Management (RMM), and support tools, all aimed at delivering the utmost customer satisfaction.
Were you aware that we provide support for Mac devices?
With over 34 years of experience in Mac IT Support, we stand out as one of the rare MSPs you can rely on to ensure the security, up-to-dateness, and seamless operation of your Apple infrastructure. Discover our range of Mac products and learn about the businesses that place their trust in us for their Mac-related software and hardware needs.
Customer-first culture
Our team members are our most valuable resource. Their dedication to exceptional customer service, consistently provided with a warm and friendly demeanor, is remarkable. Additionally, our highly skilled technicians excel in their respective fields. We are proud to be recognized as a Microsoft Gold Partner, and our comprehensive training and accreditation in the latest technologies enable us to offer comprehensive support in various IT environments.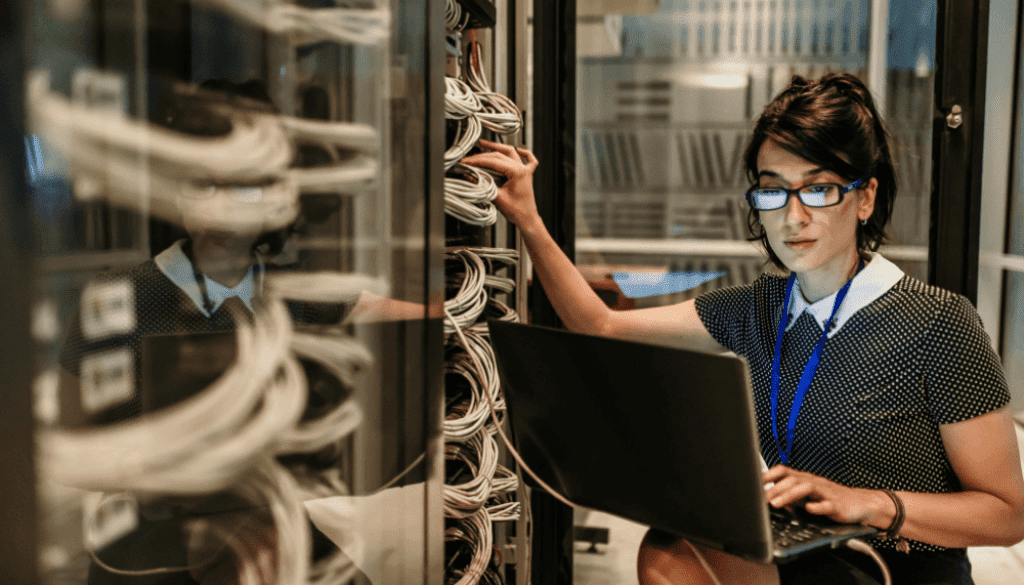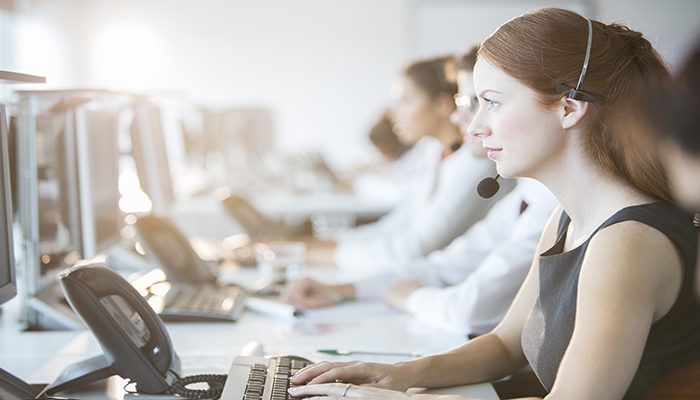 Continuous service enhancement
Continually enhancing our processes and services through learning and adaptation is of utmost importance to us. Our emphasis on training and accreditation, coupled with a comprehensive staff development program, ensures that we possess the expert skills and knowledge necessary to meet our clients' needs at all times.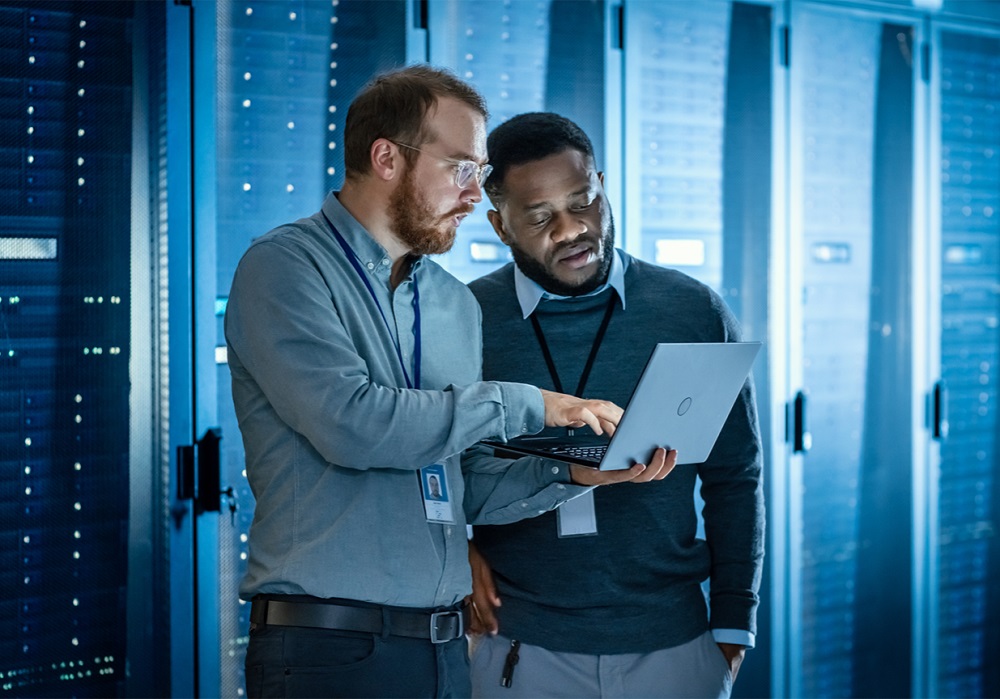 What is the difference between IT support services and IT solutions?
IT support services consist of a group of skilled engineers who offer assistance, upkeep, and supervision for your business throughout an agreed-upon duration. On the other hand, IT solutions involve the planning, installation, and execution of systems, typically carried out on a project-oriented or temporary contractual basis.
What services come under IT support?
Common services that sit under IT support for businesses include:
Managed/Remote Support
Cyber Security
Cloud Services
Connectivity
Backup Storage and Solutions
System Monitoring
Email Services/Management
Disaster Recovery
Business Continuity
What does IT Support do?
Typical responsibilities within an IT support framework involve addressing technical concerns, troubleshooting user issues, and overall ensuring the seamless operation of your business free from any technological obstacles. The work can be carried out through in-person interactions or via phone, where an IT technician can remotely connect to a device to accomplish tasks or resolve problems.
What is IT Support?
IT Support services offer assistance and support to individuals or businesses encountering technological challenges. These encompass tasks such as software and hardware installation and configuration, network setup, device management, and prompt resolution of technical issues. Such services can be carried out internally by an in-house team or outsourced to a Managed Service Provider.
Arrange a FREE IT Audit
Or contact us to discuss your needs further by calling (570) 523-3373 to speak to our IT specialist.
Book a FREE audit today